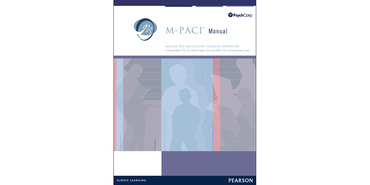 Millon® Pre-Adolescent Clinical Inventory is specifically designed to identify psychological problems in children. Unlike instruments that focus on a single clinical area such as anxiety or depression, M-PACI® provides an integrated view that synthesises emerging personality styles and clinical syndromes, helping detect early signs of Axis I and Axis II disorders. Guidance on using this test in your telepractice
Kits

Starter & complete kits, print & digital

Test forms & reports

Booklets, record forms, answer sheets, report usages & subscriptions

Support materials

Manuals, stimulus books, replacement items & other materials

All products

All tests and materials offered for M-PACI
Prices include VAT where applicable
M-PACI HandScore Starter Kit

9780749154196

Qualification Level

C

Includes Manual, 50 Answer Sheets, 50 Profile Forms and Answer Keys

M-PACI HandScore Reorder Kit

9780749154202

Qualification Level

C

Includes 50 Answer Sheets and 50 Profile Sheets

M-PACI Answer Sheets

9780749154189

Qualification Level

C

Pack of 25

M-PACI Q-global Digital Manual

9780749115494

Qualification Level

C

Once ordered, the Digital Manual is accessible by logging into Q-global and visiting the Q-global Resource Library. It is a view-only digital file.

M-PACI Manual

9780749154165

Qualification Level

C

M-PACI CD

9780749154172

Qualification Level

C

M-PACI Q-global Profile Report

9780749166403

Qualification Level

C

MCMI-III HandScore Reorder Kit

9780749153625

Qualification Level

C

Includes 50 Answer Sheets, 50 Worksheets and 50 Profile Forms

M-PACI Q-global Interpretive Report

9780749166397

Qualification Level

C
Overview
Publication date:

2005

Age range:

9 – 12


Reading Level:

3rd Grade

Scores/Interpretation:

A sample of 292 pre-adolescents, ages 9-12, from 53 sites from across the U.S.

Qualification level:

C

Completion time:

15–20 minutes (97 true/false items)


Administration:

Paper-and-pencil, CD, computer or online administration

Scoring options:

Report Options:

Interpretive and Profile Reports

Telepractice:
Product Details
Psychologists, psychiatrists, school psychologists, and other mental health professionals can use M-PACI results to help pinpoint the source of pre-adolescent issues. M-PACI is used for pre-adolescent assessment in outpatient, inpatient, day treatment, and residential treatment settings.

Benefits

Evaluate troubled pre-adolescents to confirm diagnostic hypotheses.
Contribute to individualized treatment planning by providing an integrated picture of emerging personality patterns and current clinical signs.
Measure progress before, during, and after treatment.

Features

M-PACI was developed by Dr. Theodore Millon, a leader in the field of personality development. The normative population of the M-PACI consists of 292 pre-adolescents, ages 9–12, from 53 sites from across the U.S.

Fewer than 100 questions which take most pre-adolescents only 15–20 minutes to complete.
Age-appropriate language, requiring minimal reading level.
Validated against expert clinician judgments and other leading self-report inventories for this age group.
Includes a summary of potential treatment strategies, tailored to each patient.

Scales

Telepractice

Find out how to use this test in your telepractice.
Sample Reports

Interpretive Reports provide an integrated analysis of results with regard to the patient's emerging personality patterns and current clinical signs. Profile Reports present a graphic representation of base rate scores for all 14 scales and two response validity indicators in an easy-to-read graph.

 
FAQs
Select a question below to see the response.

Test Content

What is the reading level of the M-PACI items?

The M-PACI items are at the third-grade reading level.

Is the M-PACI inventory appropriate for use with non-clinical cases?

No. The inventory was developed and normed based on the responses of 9- to 12-year-olds who were being seen in clinical settings. It should not be used to screen non-clinical cases for psychological problems.

Can the M-PACI inventory be used in school settings?

Yes, but only with children who have been referred for evaluation and/or counseling due to apparent behavioral and/or emotional problems. In other words, it should only be used with clinical cases.

Can the M-PACI inventory be used with children younger than 9 or older than 12?

No. The children involved in the M-PACI development and validation research were between the ages of 9 and 12. Thus, there are no data to support M-PACI use with children outside this age range. The scoring software will not score the inventory if the child is younger than 9 or older than 12.

Is the M-PACI inventory available in any languages other than English?

Not at this time.

Administration

How long does it take most children to complete the M-PACI inventory?

Twenty minutes or less.

IIs the M-PACI inventory available for administration over the Internet?

No. The M-PACI inventory can be administered on-screen using this software or it can be administered paper and pencil.

Scoring

How many M-PACI items can be omitted before the inventory is unscorable?

If five or more items are omitted (either left blank or double-marked) the inventory is unscorable. If possible, the child should be asked to answer omitted items so that the inventory can be scored.