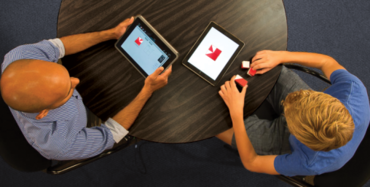 Q-interactive, Pearson's 1:1 iPad Based Assessment System
Q-interactive®
Q-interactive is a 1:1 iPad-based testing system that helps administer, score, and report 15 different clinical assessments, including WISC–V UK, WIAT–III UK, and CELF-5 UK. The system is ideal for Educational and Clinical psychologists, SLT's, and SENCO's
Overview
System requirements:

Uses:

Q-interactive™ is a revolutionary digital system that delivers the world's most advanced assessment tools you can take with you anywhere. Q-interactive saves you time, while adding unprecedented flexibility, portability, convenience and efficiency.

It is created to cater to the specific test administration and reporting needs of Psychologists, Speech and Language Therapists and SENCOs/Specialist Teachers.
Ordering
Q-interactive pricing consists of an annual licence for each user and a per-subtest usage charge. Usage is via a prepay method in which you estimate the total subtests for a licence year and pay upfront. Some additional materials are needed for administration (e.g., blocks, response booklets, etc.). 
 

Step 1: Choose a suitable licence for your profession

Q-interactive requires an annual licence, good for one year from the date of purchase, for users to gain access to the system. The annual fee is based on the number of users in your organisation. You will need to purchase one licence for each user that will administer assessments on the system.

Standard Licence: Includes access to all available assessments contained in the Q-interactive Library.

Educational Licence: Includes access to our Academic tests.

Speech and Language Licence: Includes access to our Speech tests.


Please note that the below prices do not include VAT.
 

Licence Type
Tests included
# of users
Cost per user (+VAT)
Standard Licence
WAIS-IVUK, WISC-VUK, WIAT-IIIUK, KTEA-3, WRAT-5, WMS-IVUK, CVLT-C, CVLT-3, DKEFS, NEPSY-II, RBANS Update, GFTA-3, KLPA-3 (report only), CELF-5UK, EVT-3

1-4
5-24
25+
 

£195
£170
£145
 
Educational Licence
WRAT5, WIAT-IIIUK, EVT-3 and KTEA-3

1-24
25-49
50+
 

£90
£70
£50
 
Speech & Language Licence
CELF-5UK, GFTA-3, EVT-3 and KLPA-3 (Report Only)
0-4
5-25
25+
£115
£90
£65


For information on training licences, please visit our TPP page.

Step 2: Estimate and purchase your usage

Estimate and purchase your usage upfront.

Tiered pricing is available based on the number of subtests purchased. Please note there is a minimum order of 50 subtest usages per order. You can order any number of usages over and above this quantity, for example 51 or 52 onward.

(N.B. unused subtests can be rolled over to the following year, provided your annual licence is renewed).

Usage ISBN: 9780749167615

50 - 750 subtests - £1.80 (per subtest)
751 - 5000 subtests - £1.65 (per subtest)
5001+ subtests - £1.40 (per subtest)

Please note:  WIAT-III UK, WRAT-5 and KTEA-3 subtests count as 0.5 subtests used once administered.

CVLT-C, CVLT-3, GFTA-3 and RBANS are the equivalent of 3 subtests used.

Order Now

There's more to learn.

Get a closer look at the capabilities, benefits and features of Q-interactive.
Product Details
A comprehensive digital system, Q-interactive provides a more effective way to do work, serve clients, and evolve your practice.

Benefits

Quickly set up client profiles, manage test library, assign tests, and review
assessment data.
Improve administration accuracy and speed with real-time scoring and maximum flexibility.
Minimize transport of cumbersome test kits.
Eliminate the need for tracking and sharing of test kits.
Sync data back to "Central," the secure web portal, and generate reports.

Features

Testing takes place on two iPads in an app called "Assess." Use the first iPad to access test administration instructions, score and record responses, and control visual stimuli. The examinee uses the other iPad to view and respond to stimuli.

Digitally captured responses.
Immediate scores that enable you to adapt the assessment session to your client's needs.
Permanent access to scores, all raw examinee responses, and any notes taken.
Score reports can be generated and can be saved to computer for later access.

There's more to learn.

Get a closer look at the capabilities, benefits and features of Q-interactive.