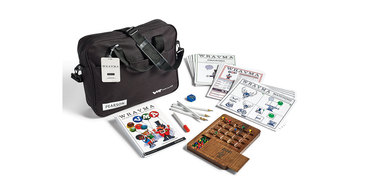 Wide Range Assessment of Visual Motor Abilities
WRAVMA
Wide Range Assessment of Visual Motor Abilities (WRAVMA) provides a reliable, accurate evaluation of visual-motor skills of children and adolescents
Kits

Starter & complete kits, print & digital

Test forms & reports

Booklets, record forms, answer sheets, report usages & subscriptions

Support materials

Manuals, stimulus books, replacement items & other materials

All products

All tests and materials offered for WRAVMA
Prices include VAT where applicable
WRAVMA Complete Kit

9780749170431

Qualification Level

B

Includes WRAVMA Administration & Scoring Manual, Drawing Forms (25), Visual Matching Forms (25), Examiner Record Forms (25), Pegboard and Pegs, Pencils, Markers, and Sharpener, black canvas bag

Ready to ship within:11-12 weeks

WRAVMA Matching Forms

9780749170479

Qualification Level

B

Pack of 25

WRAVMA Drawing Forms

9780749170448

Qualification Level

B

Pack of 25

WRAVMA Record Forms

9780749170455

Qualification Level

B

Pack of 25

WRAVMA Manual

9780749170462

Qualification Level

B
Overview
Publication date:

1995

Age range:

3 to 17 years

Qualification level:

B

Completion time:

4-10 minutes per subtest

Administration:

Individual
Product Details
Assess and compare visual spatial, fine motor skills, and integrated visual motor skills.

Benefits

Relevant to school-related activities: evaluate visual-motor ability to make meaningful distinctions between important contributing sub-areas.
Psychometrically sound: permits a valid comparison of a child's overall visual-motor ability with norms for each test derived from the same standardization sample of 2,600 children.
Comprehensive and economical: one set of materials with children and adolescents ages 3–17 years.

Features

The WRAVMA assesses three areas using three tests: Drawing (Visual Motor), Matching (Visual-Spatial), and Pegboard (Fine Motor).

The Drawing Test: evaluates visual-motor integration by asking the child to copy designs arranged in order of increasing difficulty.
The Matching Test: assesses visual-spatial skills by asking the child to look at an image and select the option that relates best with it. 
The Pegboard Test: measures fine motor skills by asking the child to insert as many pegs as they can into a pegboard within 90 seconds. 
A scaled score, standard score, age-equivalent score, and percentile may be obtained for each subtest. 
A Visual-Motor Integration Composite score can be calculated when all three subtests are used together.