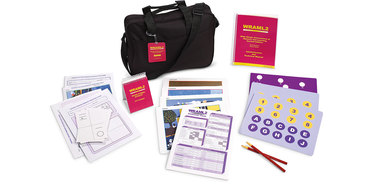 Wide Range Assessment of Memory and Learning | Second Edition
WRAML2
Wide Range Assessment of Memory and Learning, Second Edition (WRAML2) is a broad-based memory battery that provides a flexible measure of memory functioning and learning
Kits

Starter & complete kits, print & digital

Test forms & reports

Booklets, record forms, answer sheets, report usages & subscriptions

Support materials

Manuals, stimulus books, replacement items & other materials

All products

All tests and materials offered for WRAML2
WRAML-2 Design Memory Response Forms

9780749119621

Qualification Level

B

Pack of 25

WRAML-2 Examiner Forms

9780749119584

Qualification Level

B

Pack of 25

WRAML-2 Picture Memory Recognition Forms

9780749119614

Qualification Level

B

Pack of 25

WRAML-2 Complete Kit

9780749119560

Qualification Level

B

Includes Manual, Sound Symbol Booklet, Examiner Forms (25), Picture Memory Response Forms (25), Picture Memory Recognition Forms (25), Design Memory Response Forms (25), Design Memory Recogition Forms (25), Picture Memory Cards (4), Design Memory Cards (5), Finger Window Card, Symbolic Working Memory Card (2), Red Grease Pencil (2)

WRAML-2 Administration and Scoring Manual

9780749119577

Qualification Level

B

WRAML-2 Finger Window Card

9780749170271

Qualification Level

B

WRAML-2 Design Memory Recognition Forms

9780749119638

Qualification Level

B

Pack of 25

WRAML-2 Symbolic Working Memory Card

9780749170318

Qualification Level

B

Set of 2

WRAML-2 Red Grease Pencil

9780749170295

Qualification Level

B

WRAML-2 Picture Memory Cards

9780749170288

Qualification Level

B

Set of 4

WRAML-2 Picture Memory Response Forms

9780749119591

Qualification Level

B

Pack of 25

WRAML-2 Sound Symbol Booklet

9780749170301

Qualification Level

B

WRAML-2 Design Memory Cards

9780749170264

Qualification Level

B

Set of 5
Overview
Age range:

Individuals 5 - 90

Qualification level:

C

Completion time:

Less than 1 hour for the Core Battery

Administration:

Paper-and-pencil

Scoring options:

Hand scoring
Product Details
WRAML-2 allows users to diagnose memory problems and facilitates the need for two memory tests for adults and children.

Benefits

Access standard scores, scaled scores, and percentiles, and age equivalents for the child and pre-adolescent age groups.
Provide an overview of memory functioning in four subtests from the Core Battery.
Choose from additional subtests and indexes to further enhance working memory assessment capabilities.

Features

The WRAML2 Core Battery is composed of two verbal, two visual, and two attention/concentration subtests. 

Four subtests from the Core Battery provide an overview of memory functioning.
A General Memory Index comprises Verbal Memory Index, Visual Memory Index and Attention/Concentration Index (coefficient = .93)
A Working Memory Index comprises Symbolic Working Memory and Verbal Working Memory subtests, plus four recognition subtests: Design Recognition, Picture Recognition, Verbal Recognition and Story Memory Recognition.
New age norms from 5–90 years.

 
FAQs
Select a question below to see the response.

How long does it take​?​

The WRAML2 can be tailored to meet the clinician's needs. A screening version (4 subtests) yields Verbal and Visual Memory Indexes, along with an overall Screening Index. Administration time for an experienced clinician, depending on the client's pacing, is around 20-30 minutes. The standard battery is 6 subtests and yields, in addition to the Verbal and Visual Memory Indexes, an Attention/Concentration Index and a General Memory Index. Total time is around 35-40 minutes. For those wanting more qualitative and comparison data (e.g., a comprehensive n-p battery), the standard battery and all optional subtests take about 60-70 minutes.

What is the best way to interpret the scores?

In addition to material in the accompanying manual there is an Essentials book (Wiley) on the WRAML2 (and TOMAL), co-authored by Wayne Adams and Cecil Reynolds.  The WRAML2 portion of that book provides a thorough overview, practical how-to's, cautions, and interpretive paths to consider.

How does the WRAML2 differ from other Pearson products that assess memory?

The WRAML2 is a lifespan product (ages 5-90 years) that quickly and efficiently allows clinicians to assess memory function vs. WMS-IV (ages 16-90) and CMS (ages 5-16).