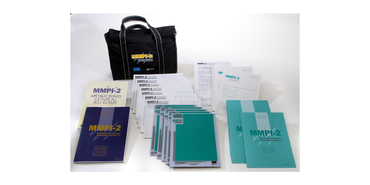 Minnesota Multiphasic Personality Inventory-2 (MMPI-2) Extended Score Report
The Minnesota Multiphasic Personality Inventory®-2 (MMPI®-2) Extended Score Report is a cost-effective report that provides raw and T scores for all standard MMPI-2 scales and a listing of critical items
Overview
Qualification level:

C

Administration:

Q-global, Q-Local, or paper-and-pencil

Scoring options:

Q-global™ scoring & reporting, Q™ Local software, hand scoring, or mail-in scoring services
Product Details
A New Norm: The MMPI-3 is now available! Try it now with a free trial

This cost-effective report provides raw and T scores for all standard MMPI-2 scales and a listing of critical items. The report includes:

Validity and Clinical Scales Profile, K-corrected and non-K-corrected (graph)
RC (Restructured Clinical) Scales Profile (graph)
Clinical Subscales (reported)
Content Scales Profile (graph)
Content Component Scales (reported)
Supplementary Scales Profile (graph)
PSY-5 Scales Profile (graph)
Non-gendered T scores and response percentages
Critical Items and Omitted Items

 
Scoring & Reporting
Extended Score Report

This report provides raw and T scores for all standard MMPI-2 scales, as well as the PSY-5 Scales, Content Component Scales, and critical items.

Sample Report

Scoring and Reporting Options

Q-global™ Web-based Administration, Scoring and Reporting – Enables you to quickly assess and efficiently organize examinee information, generate scores, and produce accurate comprehensive reports all via the Web.

Q Local™ Scoring and Reporting Desktop Software - Enables you to score assessments, report results, and store and export data on your computer.

Manual Scoring – Administer assessments on answer sheets and score them yourself with answer keys and profile/record forms.