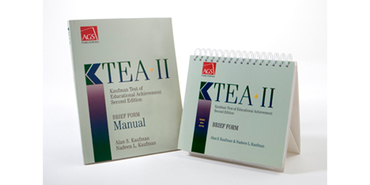 Kaufman Test of Educational Achievement | Second Edition (KTEA™-II) is an individually administered battery for in-depth assessment and evaluation of key academic skills. KTEA-II also measures progress or response to intervention, and supports identification of learning disabilities
Kits

Starter & complete kits, print & digital

Test forms & reports

Booklets, record forms, answer sheets, report usages & subscriptions

Support materials

Manuals, stimulus books, replacement items & other materials

All products

All tests and materials offered for KTEA-II
Prices include VAT where applicable
KTEA-II Comprehensive Form A Error Analysis Booklets

9780749153298

Qualification Level

B

Pack of 25

KTEA-II Comprehensive Form A Record Forms & Student Response Books

9780749153274

Qualification Level

B

Pack of 25 each

KTEA-II Comprehensive Form B Error Analysis Booklets

9780749153304

Qualification Level

B

Pack of 25

KTEA-II Comprehensive Form B Record Forms & Student Response Books

9780749153281

Qualification Level

B

Pack of 25 each

KTEA-II Comprehensive ASSIST CD-Rom

9780749153397

Qualification Level

B

KTEA-II Comprehensive Written Expression Booklets Form B (6-7 years)

9780749153328

Qualification Level

B

Pack of 10

KTEA-II Comprehensive Written Expression Booklets Form A (6-7 years)

9780749153311

Qualification Level

B

Pack of 10

KTEA-II Comprehensive Written Expression Booklets Form B (8-10 years)

9780749153342

Qualification Level

B

Pack of 10

KTEA-II Comprehensive Written Expression Booklets Form A (8-10 years)

9780749153335

Qualification Level

B

Pack of 10

KTEA-II Comprehensive Written Expression Booklets Form A (11-17 years)

9780749153359

Qualification Level

B

Pack of 10

KTEA-II Brief Kit

9780749153403

Qualification Level

B

Includes Manual, Stimulus Book, 25 Record Forms and 25 Response Forms

KTEA-II Comprehensive Written Expression Booklets Form B (11-17 years)

9780749153366

Qualification Level

B

Pack of 10

KTEA-II Brief Kit Record Forms & Student Response Forms

9780749153410

Qualification Level

B

Pack of 25 each
Overview
Publication date:

2004

Age range:

4:6-25:0

Scores/Interpretation:

Age- and grade-based standard scores (M=100, SD=15), age and grade equivalents, percentile ranks, normal curve equivalents (NCEs), stanines, and Growth Scale Values (GSV)

Qualification level:

B

Completion time:

Pre-K: 30 minutes; Grades 1-2: 50 minutes; Grades 3 : 80 minutes

Administration:

Paper-and-pencil

Scoring options:

Manual Scoring
Product Details
If you need a brief ability test, choose the Kaufman Brief Intelligence Test | Second Edition (KBIT-2). It is co-normed with KTEA-II Brief for ages 26 through 90.

Features

KTEA-II features alternate forms to measure student progress or response to intervention and to adjust instruction based on performance, as well as:

Comprehensive Form for in-depth analysis.
Expanded age range (4-6 to 25 years) for a thorough assessment of preschoolers to adults.
Written Expression and Oral Expression subtests that use engaging stories or situations.
Comparisons of skill areas or subtests for easy interpretation of results.
Enhanced content coverage in math.
Best practices instructional suggestions for designing IEP goals that match students' score information with remediation strategies.
Comprehensive and Brief Forms meet in-depth or quick assessment needs.

Resources

This document includes instructions for making corrections to the Error Analysis sections of four KTEA-II subtests.