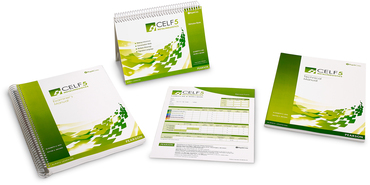 Clinical Evaluation of Language Fundamentals | Fifth Edition Metalinguistics
CELF-5 Metalinguistics
A revision of the Test of Language Competence-Expanded, the CELF-5 Metalinguistics assessment includes five tests of higher-level language skills embedded in upper-grade curricula and critical to classroom success
Kits

Starter & complete kits, print & digital

Test forms & reports

Booklets, record forms, answer sheets, report usages & subscriptions

Support materials

Manuals, stimulus books, replacement items & other materials

All products

All tests and materials offered for CELF-5 Metalinguistics
Prices include VAT where applicable
CELF-5 Metalinguistics Examiners Manual

9780158036014

Qualification Level

B

CELF-5 Metalinguistics Complete Kit with Case

9780158036007

Qualification Level

B

Complete Kit with Case. Includes: Examiner's Manual, Stimulus Manual, Record Forms (25), soft-case and luggage tag

CELF-5 Metalinguistics Stimulus Book

9780158036038

Qualification Level

B

CELF-5 Metalinguistics Q-global Digital Technical Manual

9780749115883

Qualification Level

B

CELF-5 Metalinguistics Technical Manual

9780158036021

Qualification Level

B

CELF-5 Metalinguistics Record Forms

9780158036144

Qualification Level

B

Pack of 25

CELF-5 Metalinguistics Q-global Digital Examiner's Manual

9780749115838

Qualification Level

B

CELF-5 Metalinguistics Q-global Score Report Usage

9780749115708

Qualification Level

B

Tiered pricing discounts available

CELF-5 Metalinguistics Q-global Digital Stimulus Book

9780749115937

Qualification Level

B

CELF-5 Metalinguistics Q-global Scoring 1-Year Subscription

9780749115753

Qualification Level

B
Overview
Publication date:

2014

Age range:

9:0–21:11

Scores/Interpretation:

Test and composite standard scores, percentile ranks, age equivalents growth scale values

Qualification level:

B

Completion time:

Approximately 45 minutes for the Total Metalinguistics Score

Scoring options:

Q-global™ (web-based) or manual scoring
Ordering
| | |
| --- | --- |
| The flash drive kit and individual flash drives have been discontinued. The Examiner's Manual and Stimulus Book are available on Q-global. |   |
Product Details
CELF-5 Metalinguistics goes beyond assessment of syntax and semantics to assess language strategies and language flexibility.

Benefits

Measure a student's ability to think about and use language to make inferences, manipulate conversational speech given a context, use words in multiple ways, and use language in a non-literal manner.
Assess ability to interpret contextual and situational demands of conversation and understand what is not explicitly stated in communication interactions.
Evaluate delays in semantic, syntactic, and pragmatic competence.
Ideal for students with subtle language disorders or those on the autism spectrum.

 

Features

A 30-item rating scale is used in four testing areas: Words, Concepts and Multiple Meanings, Inferences and Predictions, and Conversational Knowledge and Use. Administer these four tests individually or as a battery to obtain norm-referenced information about an individual's language skills in:

Making Inferences
Conversation
Multiple Meanings
Figurative Language

Sample Reports

The following sample reports are available for CELF-5 Metalinguistics.
Resources
| | |
| --- | --- |
| The following resources are available for CELF-5 Metalinguistics. |   |