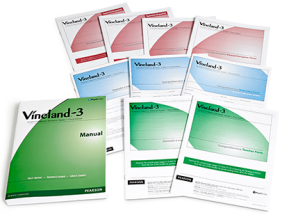 Vineland Adaptive Behavior Scales, Third Edition (Vineland-3) is the leading instrument for supporting the diagnosis of intellectual and developmental disabilities. Vineland-3 not only aids in diagnosis, but provides valuable information for developing educational and treatment plans. Guidance on using this test in your telepractice
Kits

Starter & complete kits, print & digital

Test forms & reports

Booklets, record forms, answer sheets, report usages & subscriptions

Support materials

Manuals, stimulus books, replacement items & other materials

All products

All tests and materials offered for Vineland-3
Prices include VAT where applicable
Vineland-3 Interview Forms - comprehensive version with item level probes

9780749170981

Qualification Level

B

Pack of 25

Vineland-3 Interview Forms - domain level version

9780749171100

Qualification Level

B

Pack of 25

Vineland-3 Interview Forms - comprehensive version without item level probes

9780749170974

Qualification Level

B

Pack of 25

Vineland-3 Teacher Forms - comprehensive version

9780749171049

Qualification Level

B

Pack of 25

Vineland-3 Teacher Forms - domain level version

9780749171056

Qualification Level

B

Pack of 25

Vineland-3 Q-global Digital Manual

9780749171667

Qualification Level

B

Vineland-3 Parent/Caregiver Forms - domain level version

9780749171018

Qualification Level

B

Pack of 25

Vineland-3 Parent/Caregiver Forms - comprehensive version

9780749171001

Qualification Level

B

Pack of 25

Vineland-3 Complete Kit

9780749171094

Qualification Level

B

Includes: 1 Vineland-3 Manual, one package (25) each of Interview Form w/ item level probes, Interview Form wo/ item level probes and Interview Form Domain Level, Teacher Rating Form Comprehensive and Teacher Rating Form Domain Level, Parent/Caregiver Form Comprehensive and Parent/Caregiver Form Domain Level.

Vineland-3 Q-Global Domain Level Report

9780749171070

Qualification Level

B

Inc admin and scoring and reporting

Vineland-3 Q-Global Comprehensive Level Report

9780749171063

Qualification Level

B

Inc admin and scoring and reporting

Vineland-3 Manual

9780749170998

Qualification Level

B

Includes administration directions for interview, Parent/caregiver and Teacher Forms

Vineland-3 Q-global Scoring Subscription 1 Year (Digital)

A103000067958

Qualification Level

B

Includes unlimited scoring per user within an account for Comprehensive Level and Domain Level Interview, Teacher and Parent/Caregiver forms
Overview
Publication date:

2016

Age range:

Birth-90

Qualification level:

B

Administration:

Online using Q-global, and paper and pencil

Forms:

Birth-90 years old: Interview and Parent/Caregiver Form. 3-21 years old: Teacher Form

Scoring options:

Q-global and Manual Scoring.

Telepractice:
Product Details
Psychologists and other professionals rely on Vineland-3 to perform a variety of tasks in multiple settings, including education, social services, health care, criminal justice, and the military.

Benefits

Correspond scales to the three broad domains of adaptive functioning specified by the American Association on Intellectual and Developmental Disabilities and by DSM-5 - Communication, Daily Living Skills, and Socialization.
Access enhanced features, including new norms and improved items.
Use for diagnosis, qualification for special programs, progress reporting, program and treatment planning, and research.
Adapt to purpose, employing convenient rating forms or the respected semi-structured interview format which focuses discussion and gathers in-depth information.

Features

All Vineland-3 forms aid in diagnosing and classifying intellectual and developmental disabilities and other disorders. With Vineland-3 you can measure adaptive behavior of individuals with:

Intellectual and Developmental Disabilities
Autism spectrum disorders (ASDs)
ADHD
Post-traumatic brain injury
Hearing impairment
Dementia/Alzheimer's disease

Sample Reports

The following sample reports are available for Vineland-3.

Telepractice

Find out how to use this test in your telepractice.

 

At a glance

Get a closer look at the benefits and features of this product.