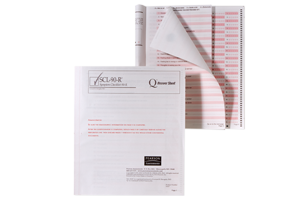 The Symptom Checklist-90-Revised (SCL-90-R®) instrument helps evaluate a broad range of psychological problems and symptoms of psychopathology. The SCL-90-R® is also useful in measuring patient progress or treatment outcomes. Guidance on using this test in your telepractice
Kits

Starter & complete kits, print & digital

Test forms & reports

Booklets, record forms, answer sheets, report usages & subscriptions

Support materials

Manuals, stimulus books, replacement items & other materials

All products

All tests and materials offered for SCL-90-R
Prices include VAT where applicable
SCL-90-R HandScore Outpatient Psychiatric Starter Kit

9780749154271

Qualification Level

B

Includes Manual, 50 Answer Sheets, 50 Profile Forms, 2 Worksheets and Answer Keys

SCL-90-R Hand-Scoring Starter Kit - Inpatient Psychiatric

9780749154288

Qualification Level

B

Includes SCL-90-R Manual, 50 Answer Sheets, 50 Profile Forms, 2 Worksheets and Answer Keys.

SCL-90-R HandScore Nonpatient Adolescent Starter Kit

9780749154264

Qualification Level

B

Includes Manual, 50 Answer Sheets, 50 Profile Forms, 2 Worksheets and Answer Keys

SCL-90-R Manual

9780749154219

Qualification Level

B

SCL-90-R HandScore Nonpatient Adult Starter Kit

9780749154257

Qualification Level

B

Includes Manual, 50 Answer Sheets, 50 Profile Forms, 2 Worksheets and Answer Keys

SCL-90-R HandScore Answer Sheets

9780749154295

Qualification Level

B

Pack of 50

SCL-90-R Nonpatient Adolescent Profile Forms

9780749154318

Qualification Level

B

Pack of 50

SCL-90-R Inpatient Psychiatric Profile Forms

9780749154332

Qualification Level

B

Pack of 50

Estimated to ship:More than 12 weeks

SCL-90-R Outpatient Psychiatric Profile Forms

9780749154325

Qualification Level

B

Pack of 50

SCL-90-R Nonpatient Adult Profile Forms

9780749154301

Qualification Level

B

Pack of 50

SCL-90-R Answer Keys

9780749154349

Qualification Level

B

Estimated to ship:More than 12 weeks

SCL-90-R Audio CD

9780749154233

Qualification Level

B

SCL-90-R Q-global Administration, Scoring, And Procedures Manual (Digital)

9780749115692

Qualification Level

B

Once ordered, the Digital Manual is accessible by logging into Q-global and visiting the Q-global Resource Library. It is a view-only digital file.

SCL-90-R Q-global Interpretive Report

9780749166434

Qualification Level

B

SCL-90-R Q-global Profile Report

9780749166441

Qualification Level

B

SCL-90-R Q-global Customer Medical Report

9780749166427

Qualification Level

B
Overview
Publication date:

1994

Age range:

Individuals 13 years and older

Reading Level:

Year 7

Qualification level:

B

Completion time:

12-15 minutes (90 items, 5-point rating scale)

Administration:

Paper-and-pencil, CD, computer or online administration

Norms:

Adult nonpatients, Adult psychiatric outpatients, Adult psychiatric inpatients, Adolescent nonpatients

Telepractice:
Product Details
The SCL-90-R is an evolution of its un-normed precursor, the SCL-90 assessment. By developing norms for the revised assessment (SCL-90-R), and developing the BSI® assessment from that, anxiety scale issues were resolved and the obsessive-compulsive scale was improved. 

Benefits

Supports initial evaluation of patients at intake as an objective method for symptom assessment.
Measures patient progress during and after treatment to monitor change.
Measures outcomes for treatment programs and providers through aggregated patient information.
Helps measure the changes in symptoms such as depression and anxiety.

Features

SCL-90-R helps measure 9 primary symptom dimensions and is designed to provide an overview of a patient's symptoms and their intensity at a specific point in time.

Contains only 90 items and can be completed in just 12-15 minutes.
Progress report graphically displays patient progress for up to 5 previous administrations.
Assessment helps facilitate treatment decisions and identify patients before problems become acute by providing an index of symptom severity.
Global Severity Index can be used as a summary of the test.
More than 1,000 studies demonstrate the reliability, validity, and utility of the instrument.
Normed on 4 groups: adult psychiatric outpatients, adult non-patients, adult psychiatric inpatients, adolescent non-patients.

Scales

Telepractice

Find out how to use this test in your telepractice.
Sample Reports

Interpretive and Profile Reports provide information on all three adult normative groups: non-patient, outpatient, and inpatient.

The Profile Report graphically displays the data using the norm group of your choice. The Interpretive Report graphically displays the data using the non-patient norms.