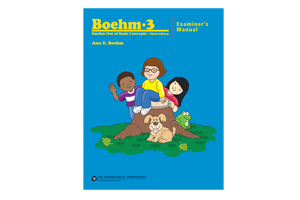 Boehm Test of Basic Concepts, Third Edition (Boehm-3) helps evaluate basic concepts essential for school success. Boehm-3 is based on research that identified the 50 basic concepts most frequently used by teachers in kindergarten, first, and second grade classrooms
Kits

Starter & complete kits, print & digital

Test forms & reports

Booklets, record forms, answer sheets, report usages & subscriptions

All products

All tests and materials offered for Boehm-3
Prices include VAT where applicable
Boehm-3 Form E Test Booklets

9780158020846

Qualification Level

A

Pack of 25

Boehm-3 Complete Kit

9780749120009

Qualification Level

A

Includes Examiner's Manual, 25 Test Booklets (Form E) and one Class Record

Boehm-3 Additional Form E

9780158020808

Qualification Level

A

Includes 25 Test Booklets (Form E), directions for administration and one Class Record

Boehm-3 Form F Test Booklets

9780158020853

Qualification Level

A

Pack of 25
Overview
Publication date:

2001

Age range:

5 years to 7 years

Scores/Interpretation:

Percentiles and performance ranges for grades K, 1, and 2. Separate norms for fall and spring testing.

Qualification level:

A

Completion time:

30-45 minutes

Administration:

Paper and pencil

Scoring options:

Manual scoring
Product Details
Administer the Boehm-3 individually or screen an entire classroom in 30 to 45 minutes to evaluate basic concepts important for language and cognitive development.

Benefits

Identify students who may be at risk for a learning difficulty and may need referral for additional testing.
Identify students in the classroom who know most concepts but are having difficulty understanding a few key concepts that are embedded in instruction.
Conduct pre- and post-testing to determine progress as a result of instruction or intervention.
Use as part of a battery of tests to assess students' language comprehension skills.

Features

Boehm-3 was standardized with 6,000 students in Fall 1999 and more than 4,000 students in Spring 2000.

Administrable to individuals or groups in a classroom setting.
Includes tools to help comply with IDEA 2004 guidelines.
Norms for both Fall and Spring testing enabling evaluation of progress at the beginning and end of the school year.
English and Spanish editions included in one test kit.
Parallel forms, E and F, enable pre- and post-testing to help determine if the student's comprehension of the concept is consistent across multiple contexts.

 
Resources

The following resources are available for Boehm-3.