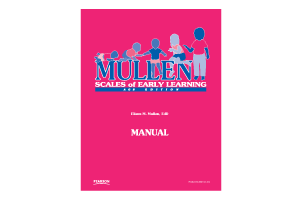 Mullen Scales of Early Learning
Mullen Scales
Mullen Scales of Early Learning is a developmentally integrated system that assesses language, motor, and perceptual abilities, measures cognitive ability and motor development quickly and reliably
Kits

Starter & complete kits, print & digital

Test forms & reports

Booklets, record forms, answer sheets, report usages & subscriptions

All products

All tests and materials offered for Mullen Scales
Prices include VAT where applicable
Mullen Scales Record Forms

9780749157531

Qualification Level

B

Pack of 25

Mullen Scales Complete Kit

9780749157517

Qualification Level

B

Includes 25 Record Forms, Test Materials, Manual and Item Administration Book
Overview
Age range:

Birth to 68 months

Scores/Interpretation:

Scales: T scores, percentile ranks, age equivalents; Composite: standard scores, percentile ranks

Qualification level:

B

Completion time:

15 minutes (1 year); 25-35 minutes (3 years); 40-60 minutes (5 years)
Product Details
Mullen Scales of Early Learning can be used with the Vineland Social-Emotional Early Childhood Scales to assess all the areas required for early childhood evaluation.

Benefits

Five scales provide a complete picture of cognitive and motor ability.
Pinpoints a child's strengths and weaknesses.
Assesses early intellectual development and readiness for school.
Provides a foundation for successful interventions.

Features

Mullen Scales of Early Learning includes five scales: Gross Motor, Visual Reception, Fine Motor, Expressive Language, and Receptive Language.

Quick and easy to administer. 
Excellent standardization and reliability data.
Easy profile analysis.
An array of stimulating manipulatives and materials.
Scale scores and an Early Learning Composite.

Resources

The following resources are available.

 
| | |
| --- | --- |
| The Mullen Raw Score Subtotal Chart provides hand-scorers with a quick means of obtaining raw scores for the Mullen Scales of Early Learning. |   |