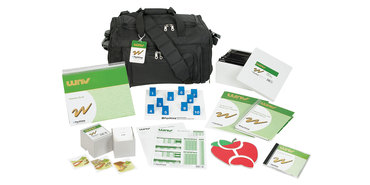 Wechsler® Nonverbal Scale of Ability (WNV™) is a nonverbal measure of ability for culturally and linguistically diverse groups. It is ideal for psychologists who need a nonverbal measure of ability for individuals who are neither English-language nor Spanish-language proficient, or have other language considerations
Kits

Starter & complete kits, print & digital

Test forms & reports

Booklets, record forms, answer sheets, report usages & subscriptions

Support materials

Manuals, stimulus books, replacement items & other materials

All products

All tests and materials offered for WNV
Prices include VAT where applicable
WNV Complete Kit

9780158338491

Qualification Level

C

Includes Administration and Scoring Manual, Technical and Interpretive Manual, Stimulus Book, 25 Record Forms, 25 Response Booklets, Spatial Span Board, Object Assembly Puzzles, Picture Arrangement Cards in a bag

Ready to ship within:10-11 weeks

WNV Technical and Interpretive Manual

9780158338514

Qualification Level

C

Ready to ship within:20 weeks

WNV Administration and Scoring Manual

9780158338507

Qualification Level

C

WNV Object Assembly Puzzles

9780158338583

Qualification Level

C

22 puzzles in a box

WNV Response Booklets

9780158338552

Qualification Level

C

Pack of 25

WNV Q-global Administration and Scoring Manual

9780749116378

Qualification Level

C

WNV Record Forms

9780158338538

Qualification Level

C

Pack of 25

WNV Stimulus Book

9780158338521

Qualification Level

C

WNV Complete Kit with Scoring Assistant

9780158234595

Qualification Level

C

Includes Administration and Scoring Manual, Technical and Intrepretive Manual, Stimulus Book, 25 Record Forms, 25 Response Booklets, Spatial Span Board, Object Assembly Puzzles, Picture Arrangement Cards, WNV Scoring Assistant in a bag

WNV Scoring Assistant

9780158340111

Qualification Level

B

WNV Q-global Technical and Interpretive Manual

9780749116422

Qualification Level

C

WNV Picture Arrangement Cards

9780158338590

Qualification Level

C

14 sets in a box
Overview
Publication date:

2006

Age range:

4:0-21:11


Scores/Interpretation:

Norm-referenced composite score; Separate subtest scores

Qualification level:

C

Completion time:

Full battery: 45 minutes; Brief version: 15-20 minutes

Administration:

Paper-and-Pencil

Forms:

Two Forms: Full Battery and Brief Version

Scoring options:

Scoring software (included in kit) or manual scoring

Other languages:

Minimal verbal instructions in French, Spanish, Chinese, German, and Dutch included in Administration and Scoring Manual

System requirements:

Software is compatible with Windows XP, Windows Vista, Windows 7, 8 and 10. Software is not compatible with Mac OS.
Product Details
When language poses a barrier to typical administration, or where traditional intellectual assessment results would be questionable due to language-related difficulties, the WNV is appropriate for all individuals.

WNV is a valid tool for use with low incidence disorders such as cerebral palsy, aphasia, physically-/multiple-handicapped, and autism spectrum disorders.

Benefits

No need to pantomime of instructions.
Native language of the examinee is irrelevant to performance.
Deploy full battery or brief version of the tool according to need and offer help, when appropriate, with flexible standard administration.
Support Spanish-dominant examinees when no Spanish-speaking clinician or translator is available.
Meet current IDEA requirements.

Features

Both a Full Battery and Brief Version of WNV are available. The Full Battery includes the following subtests: Matrices, Objective Assembly, Coding, Recognition, Spatial Span, and Picture Arrangement. The Brief Version includes two subtests and yields a single ability score.

Sample Reports

The following reports are available for WMV.