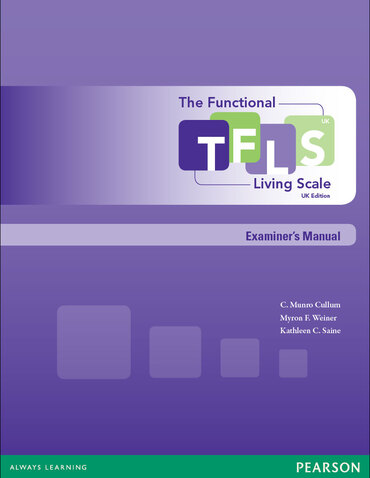 The Functional Living Scale - UK Version
TFLS UK
The Functional Living Scale - UK Version (TFLS UK) is an ecologically valid, performance based measure of functional abilities with an emphasis on instrumental activities of daily living (IADL) skills
Kits

Starter & complete kits, print & digital

Test forms & reports

Booklets, record forms, answer sheets, report usages & subscriptions

All products

All tests and materials offered for TFLS UK
Prices include VAT where applicable
TFLS UK Response Sheets

9780749162689

Qualification Level

A

Pack of 25

TFLS UK Complete Kit

9780749162726

Qualification Level

B

Includes Manual, Record Forms (25), Response Sheets (25), Stimulus Cards, Phone Book (5), Bag

TFLS UK Record Forms

9780749162696

Qualification Level

A

Pack of 25
Overview
Publication date:

2012

Age range:

16 years to 90 years 11 months

Qualification level:

A

Completion time:

Individual - 15 minutes
Product Details
TFLSUK assesses an individual's ability to perform a variety of tasks that support independent functioning in the community.

Benefits

Brief and easy to use
Especially well-suited for use in assisted living and nursing home settings
Can be used in comprehensive assessments, to support placement decisions, aid treatment planning, evaluate treatment outcomes, and monitor disease progression
Subscale cumulative percentages and an overall T-Score can be used to help determine the examinee's ability to function independently

Features

Can be administered by a variety of professionals including:
Neuropsychologists and clinical psychologists working with all age ranges, to determine appropriate level of care
Therapists, to evaluate changes in level of care for individuals
Researchers in pharmaceuticals companies, to help conduct Alzheimer/dementia drug efficacy trials.
Covers four functional domains:

Time – Assesses the ability to use clocks and calendars
Money and Calculation – Assesses the ability to count money and write cheques
Communication – Assesses the ability to prepare a snack, use a phone and phone books
Memory – Assesses the ability to remember simple information and to take medications

Assesses functional abilities quickly and easily
Screens for dementia with a tool focused on skills likely to be affected by cognitive decline
Monitors functional decline and disease progression
Monitors treatment/drug efficacy
Determines level of care required and adapt treatment plans
Linked with key tools including the WAIS-IV UK and TOPF UK
A validation study of TFLSUK was conducted on 250 UK adults between the ages of 16 and 90.