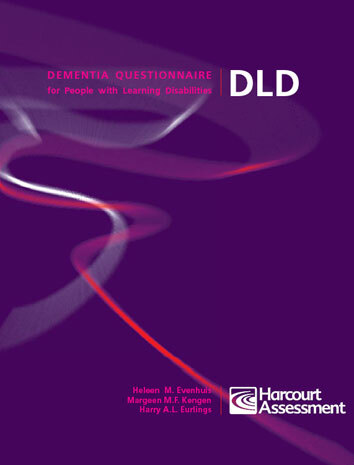 Dementia Questionnaire for People with Learning Disabilities
DLD
Dementia Questionnaire for People with Learning Disabilities (DLD) aids early detection of dementia in adults with learning disabilities (developmental ages around 2 to 10 years)
Kits

Starter & complete kits, print & digital

Test forms & reports

Booklets, record forms, answer sheets, report usages & subscriptions

Support materials

Manuals, stimulus books, replacement items & other materials

All products

All tests and materials offered for DLD
Prices include VAT where applicable
DLD Manual

9780749134914

Qualification Level

B

DLD Complete Kit

9780749134907

Qualification Level

B

Includes Manual and 25 Record Forms

DLD Record Forms

9780749134921

Qualification Level

B

Pack of 25
Overview
Publication date:

2006

Age range:

Adult

Qualification level:

B

Completion time:

Individual - 10 to 20 minutes
Product Details
The DLD (formerly known as DMR) is a screening tool which measures specific cognitive deterioration as a result of dementia, as well as functional deterioration as a result of dementia severe sensory or psychiatric problems.

Dementia is hard to determine in people with intellectual disabilities. With the DLD it is possible to assess dementia at an early stage.

Features

The DLD, an informant-based questionnaire, consists of 50 items and eight subscales:

Short-term memory
Long-term memory
Orientation
Speech
Practical skills
Mood
Activity and interest
Behavioural disturbance

Questionnaire is provided with a simple linear score system in which the items have three response categories: 0 = no deficit, 1 point = moderate deficit, 2 points = severe deficit.

Combined scores on the first three subscales (Short-term memory, Long-term memory and Orientation) are indicated as the Sum of Cognitive Scores (SCS). Combined scores on subscales 4 through to 8 (Speech, Practical skills, Mood, Activity and Interest, and Behavioural disturbance) as the Sum of Social Scores (SOS).

It is advised to routinely perform a first scoring of the DLD before any functional deterioration is observed, because longitudinal judgement of DLD scores provide the most reliable diagnosis.

 

 

 
FAQs
What is the difference between the DLD and the DMR?
The DLD is an anglicised version of the DMR. A few minor changes were made to language on the record form. It is assumed that these changes would not affect the validity of the tool. Additional changes were made to some of the text in the manual to improve its readability in English language.