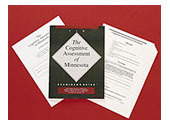 Cognitive Assessment of Minnesota
The Cognitive Assessment of Minnesota measures the cognitive abilities of adults with neurologic impairments
Kits

Starter & complete kits, print & digital

Test forms & reports

Booklets, record forms, answer sheets, report usages & subscriptions

All products

All tests and materials offered for Cognitive Assessment of Minnesota
Cognitive Assessment of Minnesota

9780761647454

Qualification Level

A

Cognitive Assessment of Minnesota Booklets

9780761647461

Qualification Level

A

25 Booklets
Overview
Publication date:

1993

Age range:

Adults

Qualification level:

B

Completion time:

Less than 60 minutes
Product Details
The Cognitive Assessment of Minnesota provides a quick identification of general problem areas presented in a concise hierarchical approach.

Benefits

Quickly assess significant areas of cognition. 
Understand the theoretical framework and the means to quickly and inclusively assess significant areas of cognition.
Establish a baseline and validate treatment.
Develop a holistic team approach with measurable, objective data that facilitates communication between professionals.
Strengthen your role in the evaluation of clients with neurologic impairments.