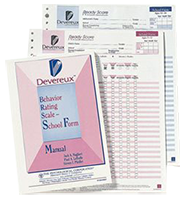 The Devereux Behavior Rating Scale (DBRS™) School Form is used to detect severe emotional disturbances in students. It is based on federal criteria and can be used by educators, psychologists, guidance counselors, and other assessment professionals
Kits

Starter & complete kits, print & digital

Test forms & reports

Booklets, record forms, answer sheets, report usages & subscriptions

All products

All tests and materials offered for DBRS
Prices include VAT where applicable
DBRS Ready Score™ Answer Documents (13 to 18 years)

9780158048086

Qualification Level

B

Pack of 25

DBRS Complete Kit

9780158048055

Qualification Level

B

Includes Manual, Pack of 25 Ready Score™ Answer Documents (5 to 12 years) and Pack of 25 Ready Score™ Answer Documents (13 to 18 years)

DBRS Ready Score™ Answer Documents (5 to 12 years)

9780158048079

Qualification Level

B

Pack of 25
Overview
Age range:

5:0 - 18:0

Qualification level:

B

Completion time:

5 minutes

Norms:

Separate by age and sex for both parent and teacher raters
Product Details
This 40-item scale is especially effective used in conjunction with other findings to monitor and evaluate progress during educational interventions, or to determine whether a seriously emotionally disturbed child or adolescent should be placed in a special education program.

Benefits

Evaluate the existence of behaviors indicating severe emotional disturbance.
Get normative comparisons of behaviors.
Compare results across informants.
Assess an individual in a variety of settings.
Provides information for treatment planning.
Evaluate treatment effectiveness as a pre/post measure.

Features

Two forms feature separate sets of items appropriate for children (5–12 years) and adolescents (13–18 years).

National standardization sample of more than 3,000 cases; separate norms for males and females for both parent and teacher raters.
Easy administration, scoring, and interpretation instructions.
Items and directions written at the sixth grade reading level.
Total Scale Score and Subscale Scores assist in eligibility determination.
Subscale Scores facilitate IEP development and preferred intervention design.
Problem Item Scores help identify specific problem behaviors for treatment.