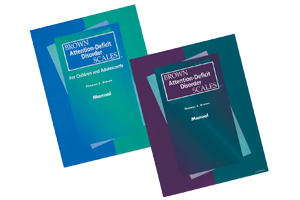 Brown Attention-Deficit Disorder Scales® (BrownADDScales) are a consistent measure of ADD across the life span. Based on Thomas Brown's cutting-edge model of cognitive impairment in ADD, BrownADDScales reliably screen for and explore the executive cognitive functioning associated with ADHD
Kits

Starter & complete kits, print & digital

Test forms & reports

Booklets, record forms, answer sheets, report usages & subscriptions

Support materials

Manuals, stimulus books, replacement items & other materials

All products

All tests and materials offered for BrownADDScales
Prices include VAT where applicable
BrownADDScales Complete Kit for Adolescents and Adults

9780158029245

Qualification Level

B

Includes Manual for Adolescents and Adults, Treatment Monitoring Worksheet, 50 Ready Score Answer Documents (25 each for ages 12 to 18 and 18+) and Diagnostic Forms (10 each, for ages 12 to 18 and 18+)

Ready to ship within:10-11 weeks

BrownADDScales Complete Kit for Children and Adolescents

9780158029337

Qualification Level

B

Includes Manual for Children and Adolescents, 5 Ready Score Parent and Teacher Forms for ages 3 to 7, 5 Ready Score Parent, Teacher and Self-Report Forms for ages 8 to 12, 5 Ready Score Answer Documents for ages 12 to 18, and Diagnostic Forms (10 each, Children and Adolescents)

BrownADDScales Ready Score® Answer Documents, Adult

9780158029467

Qualification Level

B

Pack of 25

BrownADDScales Ready Score® Answer Documents, Ages 12 to 18

9780158029450

Qualification Level

B

Pack of 25

BrownADDScales Diagnostic Form for Children, Ages 3 to 12

9780158029306

Qualification Level

B

Pack of 10

BrownADDScales Diagnostic Form, Ages 12-18

9780158029276

Qualification Level

B

Pack of 10

BrownADDScales Ready Score® Teacher Form, Ages 3 to 7

9780158029351

Qualification Level

B

Pack of 25

BrownADDScales Diagnostic Form, Adult

9780158029443

Qualification Level

B

Pack of 10

BrownADDScales Ready Score® Parent Form, Ages 3 to 7

9780158029344

Qualification Level

B

Pack of 25

BrownADDScales Ready Score® Self-Report Form, Ages 8 to 12

9780158029382

Qualification Level

B

Pack of 25

BrownADDScales Ready Score® Parent Form, Ages 8 to 12

9780158029375

Qualification Level

B

Pack of 25

BrownADDScales Manual for Children and Adolescents

9780158029320

Qualification Level

B

BrownADDScales Ready Score® Teacher Form, Ages 8 to 12

9780158029368

Qualification Level

B

Pack of 25

BrownADDScales Manual - Adult/Adolescents

9780158029412

Qualification Level

B
Overview
Publication date:

2001, 1996

Age range:

3 through adult

Scores/Interpretation:

Clinically-validated cut scores

Qualification level:

B

Completion time:

10 to 20 minutes

Forms:

Four: Primary/Preschool (ages 3-7); School-age (ages 8-12); Adolescent (ages 12-18); Adult (18+)

Scoring options:

Scoring Assistant® software or manual scoring

Report Options:

Graphical and Narrative Reports with Scoring Assistant software

Norms:

Clinically validated Cut Score

System requirements:

Software is compatible with Windows XP, Vista, and 7 only.
Product Details
With the new Brown ADD Scales for Children that include a primary/preschool scale (ages 3–7) and a school-age scale (ages 8–12), in addition to the adolescent and adult scales already available, the Brown ADD Scales allow you to comprehensively assess ADD in individuals of all ages.

Benefits

Gather and integrate important diagnostic information about an individual, with cluster and total scores arriving at a diagnostic decision.
Use in multiple settings: for screening, as part of a comprehensive diagnosis, and for monitoring of treatment responses in a wide range of educational, clinical, and managed care settings.
Administer any of 40 to 50-item efficient screening instruments in just 10 to 20 minutes.
Interpret and link performance with IQ and other assessment data, including integrations with WAIS-III and WISC-III.

Features

The Brown ADD Scales go beyond measures that address only hyperactivity to assess for less apparent impairments of executive functioning. Clusters of executive functions assessed include:

Organizing, Prioritizing and Activating to Work
Focusing, Sustaining and Shifting Attention to Tasks
Regulating Alertness, Sustaining Effort and Processing Speed
Managing Frustration and Modulating Emotions
Utilizing Working Memory and Accessing Recall
Monitoring and Self-Regulating Action (Children's edition only)

Scoring & Reporting

The convenient READY SCORE® form gives immediate cluster scores and a total score indicating overall impairment from a broad range of ADD symptoms. T scores indicate how much impairment the examinee is showing on each of the clusters, relative to a normative population. Results indicate whether the individual appears to have ADD and would benefit from a full evaluation for the disorder.

Simplify scoring and reporting with the efficient Brown ADD Scales Scoring Assistant® which allows you to quickly score and analyze results from all the Brown ADD Scales. The software accepts record form inputs; maintains multiple record forms for an examinee; exports record form data; and generates a graphical and narrative report.