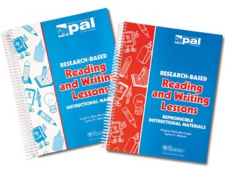 Process Assessment of the Learner PAL Research-Based Reading and Writing Lessons
PAL Reading and Writing
The materials of Process Assessment of the Learner (PAL™) Research-Based Reading and Writing Lessons include practical guidance, grounded in research, to help multidisciplinary teams intervene early in the learning process
Prices include VAT where applicable
PAL™ Complete Kit

9780158661049

Qualification Level

A

Includes Instruction Manual & Reproducibles Manual
Overview
Publication date:

2003

Age range:

K-6


Qualification level:

A
Product Details
PAL Research-Based Reading and Writing Lessons is used for instruction in writing, phonics, reading fluency, and reading comprehension and to monitor progress.

Benefits

Use for dynamic progress monitoring.
Identify problems in beginner readers and follow instruction on the treatment.
Provides a comprehensive response to the Reading First legislation.

Features

The PAL Research-Based Reading and Writing Lessons program is a perfect companion to the PAL-II Reading and Writing Test Battery and PAL Guides for Intervention. The program includes a three-tier system:

Tier 1: prevent reading and writing problems in beginning readers.
Tier 2: help struggling readers meet state reading standards.
Tier 3: provide special instruction for students diagnosed as dyslexic or dysgraphic and are receiving special education services.